Apprentice Information Systems, Serving County Government Since 1988.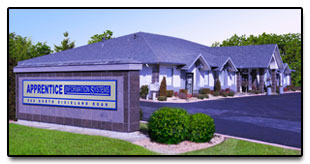 Apprentice Information Systems, Inc. specializes in providing advanced software and hardware solutions to county government. With more than twenty years in the courthouse, our experienced team of specialists understands the needs, the schedules, and the budget limitations that are common to county office work.

Apprentice is a one-stop shop when it comes to technology solutions for county government. Our products and services cover a broad range of your county's ever-changing needs. We develop software programs to comply with Arkansas laws and statutes and can prescribe, deliver and install high performance computer systems. Our service can cover both your existing and new computer hardware, and we can handle any job from wiring installation to advanced network and Internet administration.

We understand that at the end of the day, what counts is your ability to serve the public. Whether it's providing you with advanced software/hardware packages or making your county's public information available via the Internet, our goal is Improving Your Ability To Serve The Public.


| | |
| --- | --- |
| NEW! Receive Live Remote Assistance Support | |
Our Services:
Software
Hardware
Data Services
AIS Offers several software packages designed specifically for County Government. With over 330 installations, we know what works.
Computers, printers, scanners, and network components, AIS provides your office with high quality hardware that fits within your budget.
Whatever your data needs, AIS can provide you with a custom solution. We have the ability to extract county data and format it exactly to your specifications.
Training
Support
Geographic Services
Training is an important part of our service commitment to the customer. AIS will not only provide you with the hardware and software you need, but also show you how to use it.
AIS support is unrivaled in the County Government sector. In situations where AIS provided the hardware and software, all it takes is one call and AIS will solve the problem. There is no finger pointing here.
Apprentice should be your first stop on the road to GIS! We offer a wide range of geographic mapping and data services.